Velux
Roofcare roof windows offer you limitless combinations for creating a light and airy contemporary home and there are many solutions no matter what type of roof or ceiling you have.
See the difference that additional daylight and ventilation can make in your home. Make ordinary rooms into extra ordinary space.
We can help you fill virtually any room with natural light. Whether you're working on a loft conversion, extension, sun room or self build project, We are sure to have the ideal day lighting solution for you that can bring your ideas to life.
With a little imagination and our professional expertise, your loft could be transformed into a versatile living space. A loft conversion allows you to add space without having to move and may add value to your property.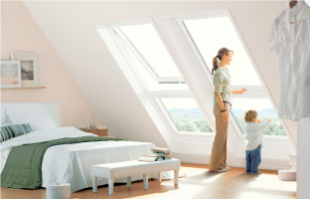 GGL Range
The GGL range comes in various options including centre pivot or top opening, in both natural pine and polyurethane white, windows have been tried and tested for over 20yrs guaranteeing customer satisfaction.
Wide range of product sizes and blind options
180 degree pivot to centre pivot windows
Double glazed sound proof glazing
Waterproof and maintenance free
Excellent value for money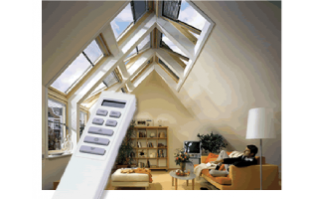 Integra Electric
Electric and Solar powered roof windows are ideal for out-of-reach situations and for adding that extra level of comfort. They are available in a choice of natural pine or white polyurethane finish. Electric and Solar powered roof windows come with a fully programmable remote which uses secure radio frequency to operate individual or groups of roof windows, blinds and roller shutters from anywhere in the building.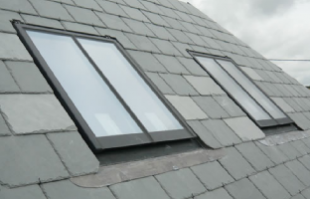 Conservation Windows
Our classic windows blend tastefully into the roof of your old building with a vertical centre bar and black finish exterior making them the ideal choose to meet with conservation requirements.
Available in either centre-pivot or top-hung opening.
Black external profiles and glazing bar.
Recessed installation for slate roofs.
Rotate 180° and lock in place for cleaning of outer pane.
Insulation collar and Underfelt collar included in all Conservation packages.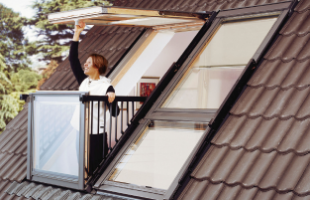 Cabrio Balcony Range
Our CABRIO® Balcony System fits snugly to the roof when closed, but when opened it becomes an instant balcony in second. It can be combined with Top-Hung roof windows and fixed bottom elements to offer extra views, ventilation and daylight. All of these are a great way to add value and a real wow factor to a property. Our CABRIO® Balcony System comes with safety glazing as standard, which combines a toughened outer pane with a laminated inner pane to ensure additional safety.