Flat Roofs

EPDM Single Ply
The RubberBond™ FleeceBack™ EPDM Single Ply Roofing System is one of the toughest materials known for resistance to weather wind and sun, a system that is designed and proven to outlast conventional flat roofing materials by double, the material comes with an expected life cycle of 40yrs plus. Through patented technology, a non-woven polyester fleece is laminated to the underside of the standard RubberBond™ EPDM making FleeceBack™ a more substantial and stronger Single Ply roofing product that is:
Over twice the thickness of standard EPDM
180% plus greater tear resistance*
60% plus greater impact resistance*

Liquid Plastics
Liquid Plastics' Decothane single ply system is a high performance polyurethane coating used as an embedment coat for the Decothane Inverted Roof waterproofing system. Our Liquid Plastics waterproofing membranes provide long lasting, elastomeric, weatherproof protection, the systems offer various optional installations with 10, 15, 20, and 25 year systems.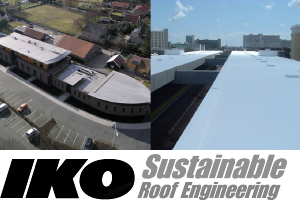 IKO Armourplan
Armourplan is a polyester-reinforced PVC membrane which is suitable for use on a wide range of roofing applications, including refurbishment, new build and more specialist installations such as simulated metal. With a successful track record spanning over 30 years, Armourplan offers many benefits;
Exceptional mechanical properties and product performance
High UV resistance and a long service life
Efficient and safe installation
Secure seam welding quality
Easy maintenance repair
Traditional Felt
Our high performance elastomeric SBS torch-on roofing membranes developed for use in high performance built-up systems on flat, pitched or curved roofs. Our torch-applied roofing systems are applied with a low flame (and no bitumen boilers) due to their specially formulated resin blends. All new systems are relatively maintenance free and depending on our clients requirements can be specified to come with optional 10yr, 15yr and 20yr warranties, all our felt products are covered by manufacturer warranties.